Home › 教会介绍 About › 牧者与领袖 Staff & Leadership
牧者与领袖

Staff & Leadership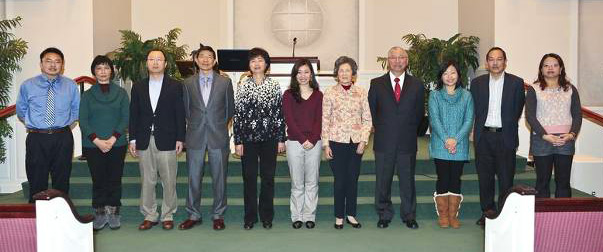 Pastoral Staff Team 牧者團隊
Daniel Luo
Church Senior Pastor
717-341-0588

Rev. Daniel Luo has been serving as pastor of Chinese Bible Church of Lancaster since September 2005. Immediately prior to being invited as a pastor, he had served on the church deacon board for two years. He and his wife Kitty have three children: Josiah, Jakin, and Jason.
Read Biography
2016 Deacon Board Members 執事會成員
Amy Tsai
Vice Chairman and Treasurer

Amy Tsai has been attending CBCL since July 2010 when she moved from Washington, DC, to Lancaster Country to be near her son and his family. She is a retiree, having worked as an accountant and finance manager for the Federal Government and private sectors. Amy has been involved in single parents ministry and children's […]
Read Biography
Deborah Fan
Secretary and Children Education

Deborah Fan is a diagnostic imaging technologist at Lancaster General Health. She started attending CBCL since early childhood and started serving in the children's ministry since 2006. Life verse: Matthew 5:16
Read Biography
Steve Chen
Student & Campus Ministries

Steve Chen has been a member of CBCL since 1992 and served as chairman of deacon board and deacon of missions previously. He is a physician and partner of Lancaster Gastroenterology, Inc. He and his wife, Violet, have four adult children, Jessica, Joshua, Jeremy, and Jonathan. Steve and Violet have been involved in campus ministry […]
Read Biography
Michelle Wang
Mission Department

Michelle Wang is a Coatings manager at Armstrong World Industries. She has been with CBCL since 2006 and has been serving Bible study group since 2010 Prior to CBCL when she was at Bergen Christian Testimony Chinese Church, NJ. She and her husband Qun Yu have a daughter, Winnie Yu.
Read Biography
Yizhen Huang
Caring

Yizhen (Jane) Huang is a house mother. She has been saved and serving at CBCL for more than 10 years. She and her husband Jinfeng (Jeff) Zhuang have two sons, Will and Eric. Life verse: Psalm 111:10.
Read Biography
James Zhan
Adult Education

James Zhan graduated from International Theological Seminary. From 2012, James starts to serve in Ambassador For Christ as the editor of Ambassador Magazine. At the same time, he begins to serve in CBCL. He and his wife (Sophie Lu) have one son and two daughters, Gabriel, Elsie and Elim.
Read Biography
Xingshun Gao
York Area Coordinator

Xingshun has been a member of CBCL since 2001. He is a mechanical engineer at Johnson Controls. Xingshun and his wife Lan and two children live in York County.
Read Biography
Connie Tantra
Treasurer

Connie Soh has been with CBCL since 2002. She and her husband has served in CBCL children ministry and mission committee in the past. Now she served as treasurer for our church. She is a CPA and director at a financial service company. She and her husband has a young son. They reside in Ephrata. […]
Read Biography
Phat Trang
Chairman

Phat Trang is a retiree, he has been serving at CBCL since 2005. He also is one of the coordinator of a Cantonese Bible study group in Lancaster area. He and his wife Gia have two daughters and five grandchildren. Life verse: Acts 20:35.
Read Biography